Do you have a small crack on your windshield? I do windshield crack repair in addition to repairing rock chips.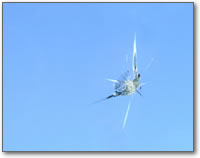 Road vibrations and temperature variations often cause rock chips to spread. Initially, the cracks may not be visible to the naked eye, but those microscopic cracks can suddenly spread across the entire windshield (this is called "cracking out").
That's why it is important to get rock chips repaired as soon as possible. If you have windshield damage that has started to spread, don't wait to see if it is going to stop. Once rock chips start to spread, they continue to crack (slowly or quickly!) until the windshield is no longer repairable.
Are Short Cracks Repairable?
Short cracks of 6″ or less (smaller than a dollar bill) are repairable just as long as the damage is not directly in the driver's line of vision.
Long crack repair falls under different repair guidelines and for insurance claims.
The main reason for windshield crack repair is to restore the structural strength of the windshield. However, there is usually also a significant improvement in appearance.
Unless the damaged area is contaminated with moisture, road grease, dirt, or chemicals (such as RainX or car wash detergents), the appearance should be improved up to 80-95%. The windshield will not look "as good as new," but the repaired area is guaranteed to not crack further.
For best results, get the crack repaired as soon as possible. The appearance of the repair often depends on the length and the amount of contamination in the crack. In other words, the older and longer the crack, the less likely it will completely fill with resin.
Insurance Claims for Short Cracks
Repair of short cracks of 6″ or less (the length of a dollar bill) is usually covered by comprehensive auto insurance. Most insurance companies waive the deductible, and the claim does not raise your insurance rates.
Reminder
Auto insurance claims do not cover repair of damage directly in the driver's line of vision.
You can get up to three rock chips or small cracks repaired on the same claim. If you have more than three rock chips, your insurance company will require a windshield replacement.
If you do not have insurance, I also offer other payment options including credit and debit cards.
If you notice a rock chip beginning to crack, or a small crack starting to spread, call me immediately for a windshield crack repair appointment.
Save Money • Save Time • Save Your Windshield