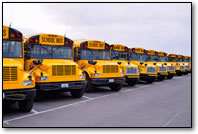 Commercial and fleet maintenance accounts are available for mobile windshield rock chip repair services.
If you are a business owner, commercial discounts and scheduled maintenance with flexible payment options are available to you.
Additionally, I offer commercial customers an extended service area free-of-charge that includes most of the Dallas Metroplex area.
If you own or manage the following type of business, GlassLogic Windshield Repair would like to be your vendor of choice!
vehicle or RV lot
bus barn
government office
construction company
any company that maintains a fleet
Whether you own a few vehicles, or a large fleet, I have maintenance options to fit your needs.
Note: I also offer On Site Windshield Repair Clinics for country clubs, businesses, apartment communities, retail stores, and private or community organizations.
Commercial Discounts
Commercial clients receive a significant discount from regular retail prices. No regular schedule is required, however, to be eligible for the discount, I do require a minimum volume of work per visit.
If you have a large volume of work on a regular basis, consider setting up a fleet maintenance account to be eligible for additional discounts.
Fleet Maintenance Accounts

Commercial clients who set up services on a regular schedule are eligible for an additional discount.
I will set up a regular route for you and provide windshield repair or headlight restoration services on your preferred schedule. A written agreement and ongoing work is required to receive a fleet service discount.
These types of maintenance plans are available:
on retainer
pre-approved work orders
on-call (restrictions apply)
Please call me at to arrange an appointment to discuss your fleet service needs.
Commercial Payment Options
I offer approved commercial clients flexible payment schedules using purchase orders and monthly invoices.
Why should you consider a commercial account with GlassLogic?
After the first 30-days, you can request monthly billing.
Just pay one invoice at the end of the month!
Fax or email your work order, I do the rest. You can have peace of
mind that the job will be done right and on time.
I am experienced, factory trained, nationally certified,
and fully insured.
If you have additional questions or would like to set up a commercial account, please contact me.
More about GlassLogic Windshield Repair: