Windshield Chip Repair
or Auto Glass Replacement?
Windshield chip repair is a safe and cost-effective alternative to replacement.
But how do you determine whether you should get a windshield chip repair or replacement? And how do you choose an auto glass service provider?
When to Repair Auto Glass
Rock chip damage such as bullseyes, stars, and combination breaks, can be fixed. The rock chip should be smaller than 1.25 inches (the size of a fifty-cent piece).
Cracks can also be fixed but fall under different guidelines. See Windshield Crack Repair.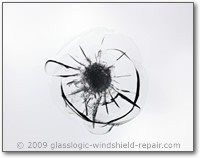 Combination breaks up to the size
of a fifty-cent piece are repairable.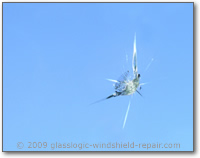 A Star break up to 1.25"
(including the cracks) is repairable.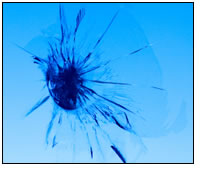 <--------2" -------->
This 2-inch rock chip
combination break is not repairable.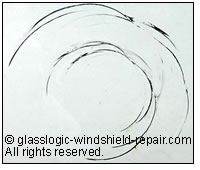 <----------- 6"----------->
This 6-inch circular break is NOT repairable.
For windshields that are not completely cracked out, a windshield repair performed by a certified technician is an excellent choice, and is commonly recommended by auto insurance companies.
GlassLogic Windshield Repair
972-983-8571
How to Choose an Auto Glass Service Provider
Auto glass shops usually install front and back windshields and car door glass in addition to doing windshield chip repair. However, I am an auto glass specialist who does chip and small crack repair only.
When you need a rock chip in your windshield fixed, it is wise to choose an auto glass repair only company, such as GlassLogic.
Why?
Avoid Conflict of Interest and Getting Ripped Off
Auto glass replacement shops that also fix rock chips often discourage repair as an option because it is more profitable to replace the windshield. In many cases, their chip repairs have a high failure rate. To avoid liability, they tell the client that the cost of the failed repair can be applied to a new windshield. (See our Auto Windshield Repair Scams page for more information about this kind of rip off.)
Time-Saving Tip
GlassLogic is an insurance network approved auto glass shop. We file the auto insurance claim for you.
If you are unsure, I can help determine if your windshield can be fixed or not. If it is, comprehensive coverage usually pays the auto insurance claim. This is called a no-fault, no-cost claim and usually does not affect your coverage in a negative way.
Avoid Steering
Most insurance companies prefer chip repair, but a few are known to aggressively steer their clients to their own affiliated automotive glass installation shops. These shops often talk the customer into getting the windshield replaced instead of repaired. The customer then has to pay the deductible out-of-pocket.
Don't let this happen to you! When contacting your insurance company, know your rights. Under state and federal laws, you have the right to select your own service provider.
Call GlassLogic Today
972-983-8571
When to Replace Auto Glass
A damaged windshield cannot always be fixed. For your safety, if the rock chip is directly in your line of vision, you should replace the glass.
Reminder
Auto insurance claims do not cover repair of damage directly in the driver's line of vision.
Some windshield chip repair companies advertise that the repaired area looks as good as new, but this is simply not true.
Even though the resin dries clear, you can see a small blemish where the impact point is located. This blemish may be distracting if it is in your line of vision.


Guidelines
Windshield chip repair is usually the best option. However, the glass should be replaced if it has any of the following:
crack(s) across the entire windshield
cracks on the inside surface of the glass
the damage from the rock chip is directly in your line of vision
the rock chip (bullseye, star, or combination break) is larger than 1.25"
If you still have questions about chip repair or need a windshield repair quote, please call me at 972-983-8571. I am happy to answer any questions you have.
Read the National Windshield Repair Association guidelines regarding the quality of rock chip repairs.
Read more about my windshield repair services:
GlassLogic Windshield Repair
Irving and Dallas Metro
Call 972-983-8571


Share this Page: